Sabbath, March 5, 2016,

Mark Ewen
Join us Sabbath, March 5, 2016 when Mark Ewen will be introduced as the new pastor.
He is a power-pack pastor for God. Welcome him with open arms.
Pastor Mark Ewen is a native of Jamaica who is married to Bahamian, Taweisha Whylly. She is a guidance counselor and also a nurse. They have two lovely children Matea, age 13; Mark, Jr., age 6. He is energetic, loves people and enjoys spending time with his family.
SABBATH SPEAKERS:
Sabbath, March 5, Pastor Mark Ewen

Sabbath, March 12, Pastor Mark Ewen Women's International Day of Prayer
Location: Wellington Street
Nassau, The Bahamas See Map
Services:
Saturday Divine Worship Service:
8 a.m. and 11 a.m.
Sabbath School: 9:15 a.m.
Adventist Youth: 4:00 p.m. as of Nov 7
Prayer Meeting: Wednesdays at 7:00 p.m.
Bible Class: Saturdays at 4:30 p.m. Seasonal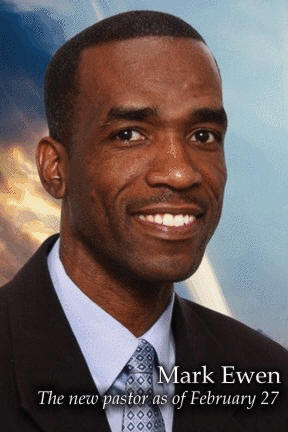 CHURCH & WORLD NEWS 27 February, 2016
---
Church Improvement Fund:

By Godís power, through our sacrificial giving and sale of a property, we have a goal to raise $500,000 to enable us to do the following, most important tasks: . . .