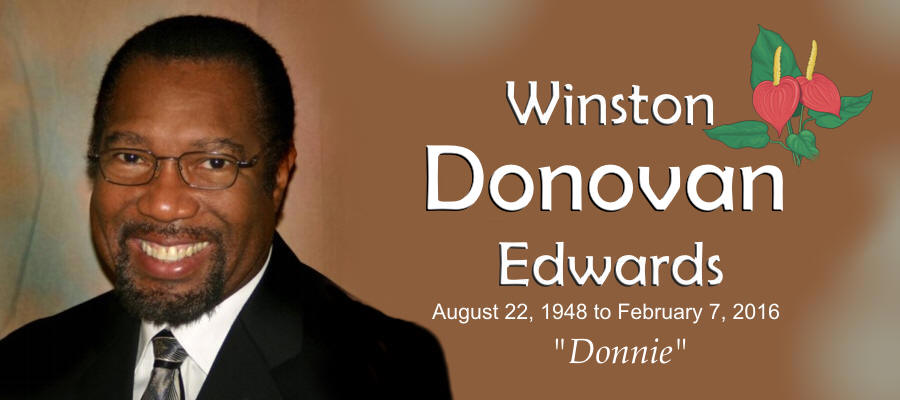 Send your condolences or tributes to barringtonbrennen@gmail.com to be placed on this website
Snap Shots of His Life and Family

Click on photos to enlarge

His dear wife, Judith

With his daughter-in-law, Jackie

Sons: Jonathan, Adam, Donovan
With granddaughter, Pennykat

Granddaughter: Pennykat

His canine family
His canine family
Judith and Donnie,1980, Jamaica
In Jamaica, 1979
With Donovan and Jonathan
Brother: Desmond (Bahamas)
Brother: Garth (Chicago)
Brother: Barry (Florida)

Their wedding day, June 1977

Donnie in 2011

PhD graduation 2000
The Edward's brothers
Don on the beach
Don at his birthday party

The Life of Winston Donovan Edwards in Words

Above photo: Releasing of neatly fifty blue and white balloons by the family

to celebrate the colorful and exiting life of Winston Donovan Edwards.

This was done of the at the Daily Factory campus, Charlotte, North Carolina, where the family and friends

gathered after the memorial service to fellowship and celebrate the life and Don Edwards . See video

Audio Clips From the

Memorial Services

Winston Donovan Edwards, affectionately known as "Donnie," died on Sunday night, February 7, 2016, at 11:55 p.m. in the Carolina Medical Center Hospital, in Charlotte, North Carolina, of a massive hemorrhagic stroke. He was 67 (born August 22, 1948).

He leaves behind a rich legacy for his loved ones: Judith, his dear wife for more than 38 years; his three wonderful sons: Donovan, Jonathan, and Adam; one daughter-in-law and one grandchild: Jackie (Jonathan's spouse) and Pennykat (granddaughter); also his brothers: Desmond (Nassau, The Bahamas), Garth (Chicago, Illinois), and Barry (Cape Coral, Florida); one sister: Marlene Walter (Miami, Florida).

Donnie was born in The Bahamas to missionary parents. His father, Pastor Cebert Edwards, wrote the former school song for West Indies College.

More than twenty years ago, Donnie was diagnosed with Myasthenia gravis, a chronic autoimmune neuromuscular disease characterized by varying degrees of weakness of the skeletal (voluntary) muscles of the body. But that did not slow him down. Many would not know the challenges he faced because he had an internal drive and fortitude that kept him going and going. He was like an "Eveready Battery."

Donnie enjoyed music, especially singing. He loved singing with his brothers. You can watch them by clicking on this link "Somewhere Listening" During his early years he also enjoyed singing with the Heralds Quartet in Jamaica and at Andrews University, Michigan. They created two albums in the early 70s entitled "The Milky White Way" and "Something Within Me." (See photo below). The members were Donovan Edwards, Garth Edwards, Oswald (Oz) Rugless, and Carlyle Simmons.

Donnie also loved animals, especially dogs and especially his three-year-old "Pinky."

Over the past five years, he had four major strokes and eight mini strokes. He is one of God's miracles. He was resilient. The family always said he had nine lives. A few months after his first stroke, he preached with an oxygen tank on his back. Donnie was caring, loving, and had a get-up-and-go that was remarkable.

He served as a pastor in Kingston, Jamaica after completing college with a BA in Religion in 1969 from West Indies College. After graduation, he served the Church as a pastor in the East Jamaica Conference of Seventh-day Adventists until 1971 when he opted for higher education in the United States of America. He joined the work–study program at Andrews University, Michigan in 1971 remaining there until 1976. That same year he returned to Jamaica to join the staff at his alma mater, NCU, functioning as the Associate Dean of Men, and moving into ascendancy as the Dean in January 1978. He remained in this position until the end of 1981

He moved with his family to Florida in 1981 where he pastored several churches for more than ten

The Heralds Quartet

The quarter with Donnie and Garth Edwards

Carlyle Simmons and Oswald (Oz) Rugless

Recorded in Michigan in 1973

The Milky White Way

Something Within Me

Click here to listen to the album

years. Then in 1991, he and his family moved to Andrews University where he studied for and completed the Ph.D. in Counseling Psychology. In 2000, he moved to the Arizona Conference of Seventh-day Adventists in Scottsdale, where he served as an assistant to the president for African American Ministries. He also served as a church pastor until his retirement in 2013.

Donnie will be greatly missed. But he will forever live in our hearts.
---
Here's What Family and Friends Think About Him
Last tribute/condolences added March 6, 2016
| | |
| --- | --- |
| | FAMILY Condolences & Tributes |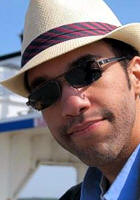 Son: Jonathon Edwards

This is a poem he presented at the memorial in honor of his father

He's gone....
I met a man in the park today, whose hair was long and paling grey. His eyes though brown had paling scenes, its color washed by mountain streams. Ahead he stared as if in time, reciting whispers of a rhyme. She's gone, he'd say, my love is gone...there is no light, birds have no song. She left for what I could not do. She left for what we knew was true. So strange I thought this old man's verse. Recited as if, it were a curse. She's gone the words echo with depressing tone. Though she was mine, she's not my own. She left me in this sea of shells. And though I'm here, my hearts in hell. I feel her still, this shadow's hand, as long left footsteps in the sand. She's gone, she is, my love is gone. There is no reason to go on.

I sat beside this ailing man. Who had none left to hold his hand. Twas strange I understood his verse, but my heart's relation made it worse. His words flowed on, as if on streams. Washing worlds and leaving dreams. She's gone, my angel's light has passed. She left for what I could not ask. Her embers glow with dying flame. She's gone, my love who has no name. T'was deep this pain shown in his eyes. But t'was not him, but I who cried. He's gone, the words now slipped from me. I cannot feel, I cannot see. For with him left my stead fast will, but though he's gone, he's with me still. He's in the wind and in my dreams. He's everywhere for me it seems. He's gone, I realized today... He left for what, I can not say.

Twas then the old man raised his head, a mirrored glimpse of things long dead. His eyes now void and black as night, lacking feeling but holding sight. She's gone he whispered so deathly cold, she ne're was here my arms to fold. She left, for I was far too vile, though she did love me for a while. She loved me for my dangers passed, but twas the danger that made her glass.

I felt for him, this aging man, but can I comfort what I am? He's gone, alas my Father's gone, but tis the reason to go on. For in my dreams he's with me still, tending goats on distant hills. There on isles of crystal pools, I see him still, when evening cools. But ah....alas this man is lost, for he has no dreams to quell his loss. And so sit I, at this man's side, reminiscing verse in rhyme. I tell him dreams for he has none, of glistening waters and setting suns. Of lovers gone, and lovers here, of tales that bring a man to tears. He may be gone, but dreams remain, and loving is what keeps us sane.

He's gone he is, my Dad is gone. but through my life he still lives on
Son
: Donovan Edwards
Coming soon LISTEN to Donnie sharing at his father's memorial. He sings at the end.
Son
: Adam Edwards
Coming soon

Brother:
Desmond and Leonette Edwards,
Nassau, The Bahamas:
My brother, W. Don Edwards, PhD, has passed. He was a tower of strength for our family, the moral compass for myself and my brothers, Barry and Garth. He followed in my father's footsteps, becoming a dedicated pastor, mentor, academic and counseling psychologist. His loss hurts deeply, but his memory lives on in my heart, and will forever remain there closeted in the deepest recesses on my consciousness. He would say, "do not grieve for me, reflect on your transient time here, discover your purpose, live your life peacefully and look forward to the Great Hope of Reunion". My brother's heart was right and he is "
Somewhere listening for his name
".

Brother: Barry and Karleen Edwards and Family, Cape Coral, Florida, USA: When our sibling/uncle died, our world changed in the absence of his heartbeat. We now have a place in our family that is void and cannot be filled. There will be no more telephone calls wishing each other happy birthdays, or sharing life's events telling of the birth of a new nephew or grand babies. Our parents Cebert and Amiee, raised us to be bonded and to complement each other, but yet different in our characteristics and talents. We had the ability to balance our love for each other while sharing similar interests; the family quartets, choirs, electronics and cars. But now, all future family occasions are forever changed. Your voice on the phone is silenced, and your place at the Edwards Family table is empty. But I promise Donnie, we will think about you, and talk about you, for those we love can never be more than a thought apart, for as long as there is memory, you'll live in all our hearts. But for now, we await the resurrection, my brother, father, husband. We will all miss you. See family
Brother: Garth and Odile Edwards,
Chicago, Illinois, USA

It is hard to say into words what my heart feels, and my mind, and soul knows...
This poem speaks to my broken heart for my dear brother....
You're still here in my heart and mind,

still making me laugh cause your stories live on.

I hold you in thought and I can feel you.

I feel you and this gives me strength and courage.

The tears I have cried for you could flood the earth

and I know you have wiped each one away.

For you brother, I promise you this,

I will go on with my life and make you proud.

I will always hold you in my heart.

I promise you I will be missing you everyday till the end of time,

but this is not my end and I can't hold my head underwater...I need to breathe.

I need to love and miss you, but I also need to live because through me you will live,

you will still laugh and love,

you will still sing and preach,

you will still motivate and touch lives,

You will forever be in our lives,

You will forever be a brother, a son, an uncle, and friend.

I listen to your melodious voice singing and get filled with emotion.

I am going to miss your shining spirit.

but at the end of the day I am one day closer to you.

You are resting now, with Mom and Dad, until we all meet again.

Sister: Marlene Walter, Miami, Florida, USA: I will miss my brother. He was really like a father to me. He was nurturing, kind , thoughtful, understanding.
Barrington & Annick Brennen Brother-in-law: My dearest brother-in-law "Donnie" has a special place in my heart. I met him when he met my sister, Judith, on the campus of West Indies College, Mandeville, Jamaica. Annick and I spent many hours in their homes in Jamaica and Florida. Our families also spent time together at Andrews University, Michigan, where we both studied counseling psychology. He will long be remembered. Sister and sons, accept our condolences on the passing of your dear husband and father. Love.

Ann Marie Albury, Sister-in-law, Freeport, Grand Bahamas, The Bahamas: "Why should I worry? Why should I fret? I know my Jesus, has never failed me yet! Though I'm discouraged, sometimes lonely, yet I know I have a friend. He walks beside me. He holds my hand." A melodious tenor voice rendering this song echoed through the Chapel of West Indies College one Friday night vesper service. Playing and singing at the piano was the new Dean of Men, Pastor Winston Donovan Edwards. The lyrics resonated within my soul and following the service that evening I introduced myself to Pastor Edwards and through our conversing learned that he wrote the song.
That brief encounter about forty years ago was the beginning of a committed and faithful friendship. After marrying my beautiful sister Judith, he endeared himself to me as a bigger brother and became my confidant. Though we have been separated by hundreds of miles for many years, a telephone conversation with him, would feel as if he is sitting in the same room with you. His candidness entwined with pleasantness and laughter penetrated the distance as we talked.
Even more precious are the moments we shared over the last ten years. His unwavering support speaks volumes in the chronicles of my journey through my grief. Don wanted me to smile and laugh again, and he never gave up until he guided and helped me find joy again within my heart. Don not only supported me but also in a special way my three sons, Keith, Alden and Brendon after the loss of their father. In spite of his personal health challenges through these years he persisted with his encouragement and optimism!
I am so happy I recently fulfilled a promise made more than two years ago to visit with him. When we talked he would ask; "When I am going to see you again?" or he would ask Judith, "When is Pinky coming?" To Don I was "Pinky!" On January 1, 2016, I celebrated my birthday with Don, Judith, Jonathon, Jackie and Penny. My heart is deeply saddened in losing my brother-in-law, confidant and faithful friend. Yet, sweet memories of our love and friendship are mine.
"The best and most beautiful things in the world, cannot be seen or even touched, they must be felt by the heart." --Helen Keller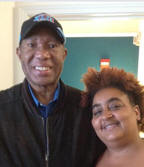 Vanessa Rahming and Family, Niece, Nassau, The Bahamas: From I was three years old my grandmother would pack us up and travel every summer to visit my uncle and aunt and cousins where ever they was living at that time. My uncle treated me like a daughter than a niece. I will always remember how he was there through my rough teenage years and taught me how to cope always remember to love myself. I am glad we spent that time together in Washington at my cousin's wedding. I am glad I got that time. The ocean might kept us apart but he was always in my heart. Until we meet again.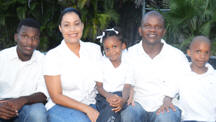 Keith and Katura Bryan and Family, Niece, Nassau, The Bahamas: We are saddened by the passing of our dear uncle/grand uncle. Aunt Judith, accept our condolences on behalf of Keith Sr., Keith Jr., Dauntes, and Ava. I remember many summer travelling with Grammy to go to Miami, Florida, to spend almost, what seem like the whole summer with you all. Uncle Donnie was so welcoming. He loved to buy the latest gadgets and show us how to use them when we come for visits.

He loved music and will always play the piano and sing with and for us. Uncle Donnie was always down-to-earth and always wanting to know how is life with us and how we are doing in school and our social lives. He believed heavily in education and wanted to encourage us to make sure we know what we wanted to accomplish as a career.

I remember one summer we went there and he owned a Beetle Volkswagen. He dressed in black with leather jacket and black gloves and went joy riding. Everyone had a ball laughing how he was enjoying himself.

I will forever miss those summers, he always welcomed us with open arms. He didn't have no daughters so he said we were his daughters (my sisters and I) We will always miss Uncle Don. Till the resurrection day when God bursts through the skies, we will see you again. Uncle Donnie, along with Uncle Keith Albury, Grammy and Pappy. You all are missed greatly.
Renee Odile Edwards,
Niece,
Illinois, USA:
My heart is heavy at the passing of my Uncle Donnie. My thoughts and prayers are with my cousins, Aunt, Dad, Uncle Barry and Uncle Desmond who are grieving deeply. Lifting everyone up in prayer!

Marguerite and Leslie Samuel,
Niece,
Berrien Springs, Michigan, USA:
Some of my fondest memories of Uncle Donnie began in their home in Berrien Springs, Michigan. Our families were at Andrews University together for a while and that gave me the chance to get to know uncle Donnie, aunt Judith, Donnie, Jonathan and Adam. I spent my days in their home just hanging out, one of my pass times during the summers especially. Music was a big part of Uncle Donnie's life and flowed down into the lives of his children. His beautiful tenor countertenor voice was so sweet to hear every so often. I enjoyed the time we shared together "crackin jokes", or having worship, or eating. When they moved to Arizona, they so generously invited me to spend Christmas with them two years in a row. It was then that, uncle Donnie, told me I was like the daughter he never had, and that his home was always open to me. Looking back, I know I have been blessed to have him in my life, and for the times that we shared. The music that he made in this life will continue to play on in the hearts and lives of those who cherish him most. My heart is with my grieving aunt Judith, along with her 3 songs, Adam, Jonathan and Donnie.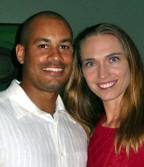 Gerard and Dana Brennen, Nephew, Ogallalah, Nebraska, USA:

I'll always cherish uncle Donnie. I remember he impressed me with his physical strength, but I was much more impressed with his positive and optimistic way of life regardless of his medical conditions. If he did not tell you what he was going through, you would not know. He was truly am inspiration to me, to always have a positive outlook, regardless of adversity. Most importantly, uncle Donnie was also a husband, father, counselor, and spiritual leader. He touched the hearts of loved ones and those that looked to him for mentorship. I know he will be missed tremendously.
Aunt Edith Roach and Family:
Judith and family, accept our condolences. Our prayers are with you.

| | |
| --- | --- |
| | CHURCH LEADERS: Condolences & Tributes |
Pastor Peter and Mrs. Joanne Campbell,
Pennsylvania, USA:
Donne was special to Peter and me. He was family and after I was inducted into the "future family member club" by Desmond in 1965, I was treated royally. Donnie was always such a positive and dynamic force. If he was in a room, it lit up as if someone turned the floodlights on. Distance and the 24/7 business of both Peter & Donnie being pastors, kept them in different places most times, but when they met, it was as if it were yesterday. Our last personal encounter was at Melissa's wedding, but he was always on our minds & in our hearts. Donnie took our son, Andre, under his wings at Andrews University and was a mentor & role model to him. Our lives were all made richer for having rubbed shoulders with Donnie. Judith, we love you and pray with you that eternity will soon begin.
Drs. Orlando and Maureen Moncrieffe (Pugsley and Dolly) Bergenfield, New Jersey, USA: Judith, it was with deep sadness that Dolly and I heard of the passing of Donnie. He knew that he had a very special place in our hearts. As members of the original Heralds Quartette formed in 1966 to sing for H. M. S. Richards, Jr., Donnie and I became more than just close friends; we were more like brothers.

A sweet and gentle soul has passed on, and the world is the poorer for it. The most beautiful crooning voice one could ever hear is now silent. Even now, half a century later, I can still hear Donnie singing in the cantata The Seven Last Words of Christ, the final words of the Master, "Father, into Thy hands do I commend My spirit." It was something that those of us who were privileged to hear it will never forget. Donnie has now commended his spirit into the hands of his Father, who one day will restore him to life and to us.

Judith, the Lord who has sustained and strengthened you during the health challenges Donnie faced in recent years will keep you in His arms of love, comforting you and assuring you of His abiding presence. Dolly and I, and all those who were privileged to have Donnie as a friend, share with you, at our own level, the loss of this loving, caring child of God. We pray that the Lord upholds you and grants you everything you need to enable you to rest in the peace-giving assurance that He will roll away your feeling of loss.

In this regard, I hope you find comforting assurance in these words from of a favorite song of the Heralds Quartette, with Donnie singing the lead as only he could:

When I should feel so sad,
Why does my soul feel glad?
Why does my heart feel so happy and gay?
Though around me burdens fall,
Yet I'm not worried at all,
For if I pray, King Jesus will roll my burdens away.
Kent and
Lisa Sharpe
,
Washington DC,
Adventist World Radio, VP for Finance
: Kent and I served with Pastor Edwards in Arizona Conference for five years before our move to Maryland. He was a wonderful, dynamic person we were privileged to know. His smile was infectious and his dedication and kindness never forgotten. Our thoughts and prayers are with his wonderful family.
Pastor Orville and Jean Parchment Washington DC, USA: I am so sorry to hear of the passing of Donnie. He was a great friend and partner in ministry when we worked in Arizona. He was a tremendous asset to the team. Jean and I send our deepest condolences. The passing of precious ones in the family is traumatic and difficult. What a blessing that in the near future, when Jesus returns, He will wipe away all death and tears and in the intervening time the Holy Spirit will bring you the comfort that is much needed. May Philippians 4:7 be a comfort to you and each of the family: "And the peace of God, which passeth all understanding, shall keep your hearts and minds through Christ Jesus."

May our Lord provide you with comfort, courage, and hope for the future as you and your loved ones reflect and celebrate the life of Donnie. Love.
Sir Patrick and Lady Allen Kingston, Jamaica: We regret the passing of Pastor Edwards. We fondly remember the good times we shared at Andrews University. We pray that the Lord will comfort the family as you go through this difficult time. We will pray for you and family. His Excellency, the Governor General Sir Patrick joins me in remembering Pastor Don as an outstanding Christian who loved his God and his family and his church. Although we have not been in contact since leaving Andrews we have never forgotten him and family as they impacted our lives. We look forward to the day when we will meet again. When suffering would have ended and we rise never to part again. Until then, we continue to fight the good fight to see our brother again.
Pastor Paul and Mrs. Joan Scavella: President, South Bahamas Conference: On behalf of the conference, my family, and myself accept our sincere condolences on the passing of Donnie. Our continued prayers are with the family.
Pastor Willie and Elaine Oliver
Washington DC, USA:
Our prayers are ascending on behalf of Judy and the rest of the family.
Pastor Leonard Johnson:

Judith and family accept my condolences. I knew Donnie personally as he was my dean and I was head resident advisor essentially assistant dean. My prayer goes out to the family
Dr. Pedrito Maynard-Reid and Family, Walla Walla, Washington, USA: Accept my deepest condolences on the passing of my friend a colleague.
Dr. Thomas Coker:
I'm so sorry his death. We look forward to the second coming as he sleeps in Jesus
Caryl-Lynn Ferguson, Alumni Services, Andrews University, Michigan: My condolences to you and your family for the loss of Dr. Edwards.
| | |
| --- | --- |
| | FRIENDS: Condolences & Tributes |
Philis G Palmer, Pembroke Pines, Florida, USA: My condolence to the Edwards family. My memory went back when his dad was pastoring, during my youth days, Shortwood Seventh-day Adventist Church in Kingston Jamaica, the church on a whole enjoyed the Edwards brothers and their mother. I also remembered while he was a ministerial student at West Indies College (Northern Caribbean University). He preached his first sermon at Shortwood. We look forward to the great getting up morning when we will meet face to face with our Saviour,
when death has no more conquer. He will be greatly missed.
Dahana Baxter: Please accept sincerest, prayerful condolences. May it comfort you to bear in mind that the heart of God is not only very familiar with your pain, but is already on the job ministering to, and healing your hearts.

As the Lord continues to carry you through life, may your experience be that the deep tenderness of His love, the constancy and sufficiency of His grace, the assuring strength of His manifest faithfulness, presence, and comfort, and the healing power of His Word, shall always soothe, bind up, guide, protect, direct, clarify, encourage; provide peace in the midst of perplexity, hope when despair attacks; keep you contentedly focused on Him even through emotional pain and upheavals; and furnish fresh faith to surmount each new challenge, be it spiritual, social, financial or otherwise, to the honour and glory of His name.

"To all who are reaching out to feel the guiding hand of God, the moment of greatest discouragement is the time when divine help is nearest. They will look back with thankfulness upon the darkest part of their way. 'The Lord knoweth how to deliver the godly'. 2 Peter 2:9. From every temptation and every trial He will bring them forth with firmer faith and a richer experience. " (DA, 528, 529).

His power and peace are commensurate with the painful problems and perplexities He permits His precious children to encounter and endure.

His strength is made perfect in our weakness.
Underneath are the everlasting arms.
He will never leave nor forsake us.
He is preparing a people, His bride, for His soon return. ...

Whilst some of our loved ones' probationary time has ended, ours, to this moment, thank God, has been extended.

As we grieve, we must not forget or neglect to appreciate and acknowledge God's love and care over us all. Let us be careful to praise our Life Giver /preserver/sustainer, and thank Him for all His benefits and blessings on us His undeserving, needy children. We have done nothing worthy of having His breath of life in our body at this very moment....

Question is, whilst we cling to the blessed hope for dear Donnie and others, what are WE doing?

After all, "The Lord IS coming. Are WE ready?"

May His Holy Spirit's abiding presence and sustaining power be your (and my) personal experience, continuously, until His imminent glorious appearance.

"Soon, this earth shall pass away,
Soon comes Resurrection Day; 'Good morning!' to those friends that said, 'Goodbye!', we'll say,
When we see Jesus coming in the sky!

Soon, we'll hear the angels sing,
Soon, Christ's trumpet sound shall ring;
He'll brush away those tears from every eye, that day
When we see Jesus coming in the sky!

CHORUS :
Soon, those pearly gates will open,
We know not when, if morning, night or noon;
Our vows to Him, His grace will have kept unbroken,
And this we know, for sure:
He's coming, SOON!"

By God's grace, you are in my daily prayers.

We all need each other's prayers. By God's grace, let us press daily together in humble prayer at God's Mercy Seat /Throne of Grace, to strengthen one another.

"Even so come, LORD Jesus"!
Yves E. Colas, Quebec, Canada: Members of the bereaved family, it is with profound sadness that I have received the sad news of the passing of Don. The last time we saw each other was in September 2001 in Phoenix (AZ), while attending a Risk Management Convention. During his Deanship, I was Assistant Business Manager at West Indies College, Jamaica. His stay in Montreal as pastor of the Westmount Seventh-day Adventist Church was short, but the members loved him very much as a very friendly person. Moreover, it was the first time in the field that we had such a versatile and talented pastor. I will remember him as a very dedicated soldier of Christ, for his wonderful singing voice, and for the way that he interacted with the other pastors when they were pitching the grand tent for our camp-meeting. Having tread some 32 years ago the path you are walking on right now, Judith, I understand what you are going through. It is a very rough road to walk on; the healing process will be slow; and the flash backs will be frequent. However, Christ Jesus, along with the support of family and friends will give you the strength to heal. Please accept my deep and sincere condolences.
The Lindo Sisters (Maxine, Maple, Twit) New York: Distance may have played a role in separating us, but you were always close to our hearts. Both our parents were schoolmates, as well as missionaries together in the Bahamas, where you and Desmond, and Maxine and Maple were born. Thanks to them, you and all our siblings were pronounced god-brothers and sisters. We shared something that was not blood, but yet, thicker than water. So sorry you had to leave us, but I am certain that we will meet in the Holy City. Meanwhile, our condolences and our prayers are with your families.
Carola White-Clarence: We the Clarence family (Jorge, Carola, Andrea and Andrew are saddened by the passing of Pastor Edwards. We remember the kindness extended to us during his ministry Arizona. Sis Judith and sons, may you be comforted by God's promises.
Selwyn Carrington: I met Pastor Edwards at the Tabernacle Seventh-day Adventist Church, Florida, many years ago and this led to a warm and long lasting friendship. I enjoyed his love of family, his passion for preaching, his commitment to God and His work, but most of all, his love for people, especially youth. I will sincerely miss this great worker who earnestly sought to build the kingdom of God. To Judith and the rest of the family, may the Comforter give you peace.
Oz Rugless, Orlando, Florida, USA: I'm so sad that my friend, Donnie, has passed away. When I think of him I remember so many happy times together. I was fortunate enough to live with the Edwards family for part of my high school years, and we were like brothers.
I remember good college days as we sang together in a quartet for the better part of 15 years, first as students at West Indies College and then at Andrews University, and then again as faculty at W.I.C. In later years we had several reunions, including our last one, when Barry's daughter Melissa got married. Donnie had a way of interpreting a song with his beautiful tenor voice that captivated people and touched their hearts.
Donnie was a friend to everyone, always with a warm welcoming smile, and a love for people that was tangible and real. As a pastor, his church members loved him.
But now we have to wait to see his smile again when Jesus raises him up in the resurrection morning. Once we arrive in heaven I'm guessing that it won't be long until he'll be singing along with Jesus as they walk together beside the river of life. His beautiful tenor will be at its purest and sweetest. His smile will be wider, warmer and even more welcoming, and he will be home, for good.
Judith and family, I'm grieving with you, but I encourage you to hold on to your hope. Hold on to God's hand, because He is on your side. We'll see Donnie again very soon.
Geraldine Pinnock,
Jamaica:
My classmate is resting awaiting the call of what the Life Giver. Please accept my condolences. I continue to pray for his family.
Maisie Willie: I was saddened to learn of the passing of Donnie. I know this is a great loss to his wife, Judith, his sons, his brothers, sister, and the rest of the family. I do recall Donnie's love of singing-- the quartet and those choir tours. Although a link is missing with his departure, we have the hope of the great time of reunion. Let us keep faithful and meet Donnie on that great reunion day. I hold you up in prayer.
Pansy Maria Vaz, Leesburg, Florida

, USA:

My heart is stricken with grief to learn of the passing of a true icon who lived a life of love and service to God and humanity. His life was spent with a mission and purpose. Every one was special to him. In his presence there was always a radiance of joy. He has touched the lives of many in a positive way, including mine. We were school mates at West Indies College (NCU). We later connected in Florida. I still remember the last sermon I heard him preach at a youth revival week. He connected so well with the young people.

He was not afraid to share his challenges. He left Florida and we lost touch, but not even knowing his medical challenges, I would lift my thoughts and prayer for him and his family. Donny has fulfilled his mission on earth for the Lord. He has fought a good fight. He has kept the faith. He has finished his course. Therefore there is laid up for him a crown of righteousness. I am praying for the comfort of his family: his wife, children, brothers and all those who loved him.
Brenda Rose,
Montreal, Canada:
From the members of Westmont Seventh-day Adventist Church. We will always remember Pastor Don as the pastor who conducted our church choir leading out in the Alleluia Chorus. Before he starts his sermons he would always say "God is good all the time., all the time God is good." We look forward to the resurrection. God bless his wife and sons.
Zenobia Davis
"Aunt Zen" and Family,
Florida:
Our condolences to you and your family on Donnie's passing. Please pass the same on to Judith and her family from Erwin and Mar.
It made me so sad to hear of the passing of Donnie Edwards: Pastor, Musician, Husband, Father, Friend, a dignified, upright, and talented Christian.

Donnie came to West Indies College during my years as Chair of the Music Department. It's true that his quartet was the talk of the Island, but amongst his more unmistakable gifts, was his ability to connect with young people. They loved, admired, and respected him so much that we asked him to direct the High School Choir. In no time at all they were performing excerpts from Handel's Messiah and other difficult pieces. Remarkable!
Births and deaths are in God's hands and are still unfathomable mysteries. So Judith and family, just take the Savior's loving hand and do not try to understand. Whatever betide you, God is always beside you.
Valencia Benjamin, Gainesville, Florida (formerly of Miami Tabernacle Seventh-day Adventist Church): I remember meeting Don and Judith at the most impressionable time of my life (a teenager). I was immediately drawn to them and adopted them in my heart as god-parents. Don was my pastor, counselor, confidant, and god-daddy. There was never a hesitation to trust any advice or instruction about "life". Like any great parent, Don would counsel from the heart while applying biblical concepts. Don and Judith were my place of comfort, and no matter how much time or miles separated us, I knew that I could always reach out and receive love – selflessly, in prayer, in faith, and always – always with encouragement. I am deeply saddened by the passing of Pastor Edwards. My thoughts and prayers are with Judith and the family. I can only imagine the strong emotions that the passing of a loved one evokes. But love is all-important, and we know that this grief is but temporary; and the joy that is promised us when we are reunited with our loved ones will be forever. May God embrace you in comfort during this difficult time.
"He heals the brokenhearted and binds up their wounds." Psalm 147:3 (NIV)
"He will wipe every tear from their eyes. There will be no more death' or mourning or crying or pain, for the old order of things has passed away." Revelation 21:4 (NIV)
Sheryl Johnson, Phoenix, Arizona, USA: I send my condolences to Sis. Judith, sons – Donnie, Jonathan, & Adam, & the rest of the family from The Johnson Posse – Sheryl, Albert IV, Shanel, Shere, Shaunel, & Sherril! Our prayers/thoughts are with y'all - & if you need something, pls let me

know. It was a pleasure having Dr. W. Don Edwards as my family's pastor at the Beacon Light Seventh-day Adventist Church in Phoenix, AZ. Hope to sing with him in the New Jerusalem when Jesus returns ;o)
Philippe & Suesianna Cadrot,
Jamaica, New York, USA
:
We are sadden to hear of the passing of Dean Edwards, Reflecting on our days on the Hill at the Noble W.I.C., we can see Dean Edwards coming up the hill from Cedar Hall walking towards the music building while we sat on the "seat of Scornful" with his dog and the keys hanging from his pocket . Our deepest sympathy to His beloved Judith and sons Jonathan, Donovan and, Adam . "Joy comes in the morning" Let us be faithful so on that Great getting up morning we all will see Donnie again.
Norma Carter:

I'm so saddened to hear of the death of Donnie Edwards. Death is such a cruel and evil enemy and one that we'll never get used to or accept while here on earth. My deepest sympathy to his wife, Judith and children, siblings, extended family, as well as all of those who loved him. Be comforted knowing that I and others care and are praying for you during this difficult time.
Maxwell and Marie Smith, Illinois, USA: On behalf of my husband Maxwell Anthony Smith, I would like to offer our condolences to Judith and the family of the Passing of Donnie. It's such a small world. When I found out that he had passed and I asked my husband if he knew him, immediately he tells me he knows him. His dad was the pastor of our home town church in Jamaica. The Rollington Town Seventh-day Adventist Church where Donnie and his brothers grew up. That was before I started there but Smithee (my husband) said they all grew up together. As a matter of fact it was the brothers singing, that was an integral part of him singing in a quartet at church also.
My connection with Donnie began at West Indies College in 1977 when I was a student there and Donnie was the Dean of Men at the time. West Indies College impacted my life a lot and this was done through a number of persons including Pastor Donnie. He is there among my personal Hall of Fame teachers: Pastor Fletcher, Pastor Melbourne, Joan Francis, Dr. Newton Hoilette, Mrs. Iris Henry, Mrs. Carol Fider, Dr, John Carey, Dr. Stanley Bull, Daisy White, Dr. Hermon Douce and Skipper Douce and the Blue Knight himself, Mr. Oswald Rugless and Pastor Henry.
Donnie and these teachers taught me what it was to be a Christian teacher as I was a budding educator myself. He was loving, kind, gracious, a people's person. I never had to go to him personally but I knew if I needed someone to talk to I knew I could go to him. The joy that Alegre and Heralds quartet gave me to enrich my music and spiritual life at WIC was amazing. I even had the privilege of singing with Meister Singers under the direction of his brother Barry, which was the crowning part of my singing career along with singing in Collegiates with Rosie Ward. My heart immediately got sad when I heard he had passed. But I know that sadness endures for a time, but joy will come in the morning. God is going to put all things right and we will see each other again and then the singing in heaven will be awesome because Donnie will be there. Let's make sure we are there too. Love always, Marie Church-Smith
Lynn Robinson (Young) and Family, Bethel Seventh-day Adventist Church, Florida City, Florida, USA: Sis Edwards, it's been along time and so sorry it have to be on this occasion to say hello. We are so sorry to hear of the passing of Pastor Edwards all I have is fond memories of you all Thinking of our trip to the Bahamas he took our choir on when we were much younger we will never forget the good times. As we toured the Island he took us through Princess Casino and out of everyone in the group I had to be the one to put a dollar in one of the slot machines and won $300 when Pastor Edwards asked "who played that machine." Everyone said "Lynn." Then he said "Ok you'll have to buy everyone lunch." We laughed and had a great time and of course the choir was well represented when we sung! Thanks for sharing him with us, love to you and the family.
Joseph, Fay, Merton, David, Valrica, Juana and Cliff Hutchinson,
Allegheny East Conference, USA:
We share your family's loss and join in the celebration of the life of a most complete and wonderful pastor. Pastor Donnie also blessed my ministry during the late 70's in Race Course, Clarendon District of Central Jamaica. He, Keith and Jeff consecutively came and blessed us and the saints with awesome anointing and transformational messages. Praying that God will bless Judith, Jonathan, Adam and Donnie, with all relatives, with anointing, blessing, comfort, healing, hope, love and strength to sustain each one on this new journey, living with the promises of future and immortal reunion together with God.' . Phil.
3:21
and Revelation 22:1-4. May these celebrations for Donnie glorify, honor God and heal each life.
Glenalee "Lee" Rolle,
The Bahamas:
Please accept my deepest sympathy on the passing of your dear husband. Be assured that my prayers are with all of you. May God continue to cover you under His feathers and in the shadow of His mighty wings. God has so many promises in His word that we can draw on in times like these. Judith, remain faithful, trust in God and someday soon we will all meet at the great coronation.
Michael McCoy and Family, First elder, Grant's Town Seventh-day Adventist Church, The Bahamas:

Mrs. Edwards and family, please accept condolences on behalf of my family. God will sustain you as you travel through this dark valley experience. May His peace be with you.
Deborah Darling Abangntuen,
The Bahamas:
Judith and family, accept my sympathy and wishing you God's comfort in your time of bereavement.
Bertram Melbourne and Family,
USA:
May God be with you as you grieve the loss of Donnie. Be assured of our prayers and the calm assuring and comforting presence of God. Be comforted by reflecting on the fact that God knows how you feel having lost His only Son to death. May the Blessed Hope give you real reason to carry on today,
tomorrow
and until Jesus comes.
Hillary Ascalon, Mrs. Iris Henry and family, Rodger (Florida), Pauline (California) and Hillary (New Jersey) extend their sincere condolences to Judy and the rest of the Edwards family. We have fond memories of both Donnie and Judy back in Mandeville at West Indies College. Always remember "weeping may endure for a night but joy comes in the morning."
Cecil Thompson, Freeport, Grand Bahama, The Bahamas: On this sad occasion I take a very special time-out to offer my most sincere condolences to Lady Judith Brennan-Edwards, wife of my late friend (old room mate at WIC/Northern Caribbean University, Jamaica) Pastor Donovan (Donnie) Edwards, his brothers: Desmond, Attorney At Law and Musician Extraordinaire; Dr. Garth,

chiropractor; Dr. Barry, Maestro! A wonderful loving family who along with their wonderful Christian parents (now in memoriam) gave me a sweet home away from home during part of my memorable four (4) year stay in Jamaica. Condolences also to the other wives, children and relatives. Let's meet in the Kingdom of Glory!
Audre Nembhard Parker, Oregon, USA: May the God of all comforts be with the family. We have a blessed hope. That day of reunion is coming soon. We will lift you up in prayer.
Austin and Olive Burnett, Toronto, Canada: I am saddened by the passing of Pastor Donnie Edwards. Our condolences and prayers are with you and the family. We look forward to the great getting-up morning when death will be abolished.
Maxwell and Linda Hepburn, Nassau, Bahamas: Our deepest condolence to Judith and the family. I know that God will strengthen you and your family.
Lucy and Malcolm Court, Huntsville, Alabama, USA: Malcolm and I are saddened to learn of the passing of your dear husband. We can never make up for the pain of losing someone, no matter how hard we try. However, we hope that the thought that others, who have experienced similar sorrow empathize with you, will at least help to ease the burden of pain you now feel. May the "everlasting arms" surround and support you and your family even as your friends lift you up in prayer.
Raynold (Ray) Lewis
Worcester, Massachusetts USA:
As a young men of Cedar Hall, "Dean Edwards" became our father and spiritual leader. He counseled, scolded, and encouraged us whenever we needed it. I am sure that many young men who lived in the Men's Dormitory at West Indies College from 1976 - 1981 could recall fondly some aspect of Donnie's ministry that has impacted their lives for good. My condolences go out to Judith and her sons who mourn.
Teddy Lyle and Family: The Lyle family sends its condolences to the Edwards family during this difficult time. Donnie's ministry impacted a lot of people and his legacy will live on. I have pleasant memories of him from the college on the hill. Will be keeping the family in prayer.
Glenn and Pat Rogers: We are deeply sorry for your loss and extend our heartfelt sympathy. We have fond memories of the good times we shared during the years that your family spent in Berrien Springs. We will continue to lift you up in prayer and look forward to the day when Christ will return and we will be reunited with our loved ones and friends. May God grant you comfort and peace. Love, Glenn and Pat Rogers
Kenneth Henry Jamaica:

Please accept condolence on behalf of my family. I shall not soon forget when you worked as my Office Secretary at West Indies Union. Donnie has impacted many lives. His deeds will surely follow him. The Lord has seen fit to give him rest from all the health challenges he has faced in this life. Thank God a new day is coming, when there will be no more pain, and no more parting. We pray God's protection and providence for you and family during the days ahead.

"Joy, real joy will come in the morning

."
Hester L. Griffin St. Thomas, US Virgin Islands: My condolences to the family of Pastor W. Don Edwards. I was a young college student from the US Virgin Islands attending the Miami Tabernacle Seventh-day Adventist Church where Pastor Edwards and his family ministered. He loved good music and started a choir, The Fine Arts Chorale, of which I was a member. He was very friendly and personable; I will remember him as an outstanding preacher and a true man of God! May God give his family and friends enduring peace and comfort as they deal with this loss. Be encouraged that Joy WILL COME in the morning. Peace and Blessings.
Donna Roberts The Bahamas: Judith, during this difficult time in your life we pray God's blessings on you and your family.
Cassandra Forbes The Bahamas: Sincerest condolences to you and sons on the passing of your beloved husband. May God comfort you during this difficult time.